Posted by david in
Fonts
,
Freebies
on 01 31st, 2009 |
12 responses
I compiled below a list with the best grunge fonts, just click on the font and the download page will open. Grunge style is really popular in design so check these dirty, urban and abstract fonts out and choose your favourites. Enjoy!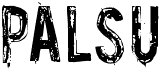 for more grunge type make sure you check out these websites: Stereo-Type, Misprintedtype [the freeware font section].
If you enjoyed this post, please share it using the toolbar at the bottom of the page and follow me on twitter @colourofair and facebook for design news and free resources.


Leave a Reply